Do you feel like your weight loss journey is going nowhere? It may be time to try meal planning. Meal planning can help you reach your weight loss goals while also helping you make healthier food choices and save money.
It doesn't have to be complicated or expensive – all it takes is a bit of organization and some commitment. With the right approach, meal planning can set you up for success on your path to achieving your health goals.
Meal planning is an effective way to take control of your diet and ensure that each meal is balanced with healthy ingredients. You'll find it easier to stick to your nutrition objectives when planning meals.
Plus, there are plenty of creative ways to combine flavors and textures so that following a strict eating regime doesn't get boring. If done correctly, meal planning can not only lead to successful weight loss but will also improve overall well-being by reducing stress levels associated with food preparation decisions.
So if you're looking for an easy yet impactful change in lifestyle habits, why not give meal planning a go? Once you get into the swing of things and understand how it works best for you, you'll discover just how simple and beneficial this process can be for both body and mind. Let's explore further how meal planning could enhance your weight loss journey.
Benefits Of Meal Planning
John has struggled with his weight for years but desperately wants to get in shape. After extensive research into nutrition and diet plans, John discovered the power of meal planning.
Once he started creating detailed menus for each day of the week, it was like a lightbulb went off in his head. He realized the immense benefits that meal planning could offer him as he worked towards reaching his health goals.
Meal planning offers countless weight control benefits. For example, when you plan your meals ahead of time, you are less likely to grab unhealthy snacks or overeat at mealtimes.
It also helps ensure that you eat balanced meals throughout the day so you're not feeling deprived while trying to lose weight.
Meal planning can help reduce food waste since you know exactly what ingredients need to be purchased and used up before they expire.
To be sure your meal-planning strategies are successful, there are several tips and tricks to keep in mind. First and foremost is ensuring that all ingredients listed in any recipe will work well together without overpowering other flavors.
Secondly, try prepping some components ahead of time, such as chopping vegetables or marinating proteins overnight, so your recipes come together more quickly during busy weeks.
Finally, don't forget about portion size – this is essential for healthy diet planning!
By considering these meal-planning tips and implementing them into an effective strategy tailored specifically to individual needs, anyone looking to improve their overall health and well-being through weight loss can benefit from having a planned menu every week.
Setting Up Your Meal Plan
Meal planning is an invaluable tool for anyone looking to enhance their weight loss journey. It can help you stay on track, save time and money, and ensure your calorie intake stays within a healthy range. But how do you get started? This section will guide you through the basics of setting up a meal plan so you can start seeing results!
The first step in meal planning is deciding what meals you want to cook each week. Start by writing down a list of ingredients or dishes that appeal to you; this will serve as your grocery list when it comes time to shop.
You'll also need to decide on portion sizes. While pre-packaged foods are often easier, they tend to be higher in calories than if you were making them yourself. Portion control is essential — aim for smaller serving sizes at mealtimes and try not to go back for seconds.
Once all the shopping has been done, it's time to begin meal prep. Meal prep involves cooking multiple meals ahead of time, so they're ready during the week and don't require much daily effort.
Choose recipes with similar ingredients that can easily be batch cooked, such as casseroles, soups, salads, etc., which can then be split into individual portions and stored in the refrigerator or freezer for later use. Doing this means less stress about what's for dinner – plus more variety throughout the week!
With these basics set up, it's just a matter of staying consistent and gradually tweaking things until you find something that works well for your lifestyle. As long as your focus remains on eating nutritious food in proper portion sizes, calorie counting and portion control won't feel like too much work!
Calorie Counting And Portion Control
Calorie counting and portion control are essential components of any weight-loss journey. Meal prepping requires knowledge about macronutrients, carbohydrates, proteins, and fats. By understanding which macronutrients work best for you and adjusting them accordingly, it's easier to create meals that provide enough energy throughout the day without exceeding your daily caloric limit.
Keeping a consistent eating schedule prevents overeating or snacking too frequently between meals.
With the help of meal prepping, controlling calories becomes more manageable:
Calorie Counting
Keeping track of your daily caloric intake can help ensure you consume fewer calories than what is burned off each day.
Having an accurate idea of how many calories should be eaten to lose weight also allows individuals to adjust as needed depending on their individual needs.
Portion Control
When determining portion sizes, it's important to consider nutritional value, hunger levels at various times during the day, and body composition goals when creating balanced meals.
This will allow one to make sure they're getting all necessary nutrients while still staying within their desired calorie range.
By utilizing proper diet plans along with calorie counting and portion control strategies through meal prepping, one can quickly achieve their weight-loss goals successfully — no matter how big or small they may be! With this newfound confidence comes increased motivation towards bettering oneself in every aspect of life.
Types Of Diet Plans
Diet plans come in all shapes and sizes. Some are low-fat, some vegan, others ketogenic or Atkins – the list goes on. But how do you choose which one is best for you? It's essential to consider your lifestyle when deciding on a diet plan that will work for you.
Take the low-fat diet, for example, it emphasizes eating foods like fruits, vegetables, whole grains and lean proteins while avoiding processed food and saturated fat. This diet can benefit those with an active lifestyle since they require fewer calories than other diets yet still provide plenty of nutrients.
The vegan diet cuts out all animal products, including eggs and dairy but includes plant-based sources such as legumes, nuts and seeds. This diet may help reduce cholesterol levels and promote weight loss.
The ketogenic diet focuses on high amounts of fats and very few carbs. This meal plan has been known to improve mental focus and accelerate fat burning.
Lastly, the Atkins Diet encourages people to cut out carbohydrates entirely while consuming more protein and healthy fats; this way of eating can lead to rapid weight loss in some individuals.
No matter what type of dietary preference you have, there is sure to be something that fits your needs – from paleo to Mediterranean – each type brings unique benefits that could potentially aid with your weight loss goals. With so many options available, it's time to start exploring the possibilities!
Grocery Shopping Tips
Grocery shopping is one of the most important steps towards successfully achieving your weight-loss goals. Planning and budgeting for healthy grocery shopping can be a daunting task, but with some simple strategies, you can make it easier to stay on track with your health goals.
One way to ensure you get the right groceries weekly is by making a grocery list and planning. Before heading to the store, take time to sit down and plan out what items will be included in your weekly grocery list. This will help keep you focused when at the store and reduce impulse purchases that don't fit into your dietary plan.
Additionally, it's also important to consider how much food you'll realistically need for the upcoming week so that you're not overspending or wasting food unnecessarily.
When creating your grocery list, several tips can help maximize efficiency while keeping costs low:
Prioritize whole foods as they provide more nutrition than processed items
Shop around different stores since prices vary.
Buy generic brands, which usually offer similar quality at lower prices
Use coupons if available
Think about buying bulk items like grains and nuts if needed
Always check expiration dates before purchasing any item
Utilizing these practical strategies for grocery list planning and healthy grocery shopping within an appropriate grocery-shopping budget sets up a strong foundation for preparing meals in advance – another essential step in successful weight loss efforts.
Preparing Your Meals In Advance
Meal prepping is one of the best meal-planning tips for weight loss. Pre-preparing meals in advance can help you stick to your diet and portion control goals. If you don't have time to cook during the week, setting aside a few hours each weekend to prepare nutritious meals can make all the difference in achieving your health goals.
Compartmentalizing your food into individual servings before storing them in the refrigerator or freezer will also help you avoid overeating. Many people find success with freezing their prepared meals and heating them as needed throughout the week.
Keeping healthy ingredients on hand at home can save time while shopping for groceries, too – this way, you won't be tempted by unhealthy snacks at the store!
By taking these steps towards preparing meals in advance, you'll set yourself up for success when reaching your weight loss goals. Planning gives you more control over what goes onto your plate, which helps keep cravings in check and keeps your energy levels high so that exercising becomes easier.
Sticking To A Meal Plan
A meal plan is one thing, but sticking to it is another. Meal planning can be an effective way to help you reach your weight loss goals if you commit to the process. Here are three tips that can help:
Stay organized – Create a plan for each week and stick with it as much as possible by prepping meals in advance. This will make mealtime less stressful and easier to manage throughout the day.
Set realistic goals – Don't set unrealistic expectations of yourself when dieting or meal planning. Make achievable goals that you know you can realistically accomplish over time.
Track what works – Logging your progress helps track how well your meal plans work out for you; this allows you to adjust accordingly until achieving desired results.
Sticking to a meal plan requires dedication, consistency, and discipline — all essential to successful weight loss efforts. It may seem overwhelming initially, but having support from friends, family members, professionals, or online communities can motivate you along the journey.
Eating out on a meal plan doesn't have to be difficult either – there are plenty of ways to stay within budget while still enjoying delicious meals.
Eating Out On A Meal Plan
Eating out on a meal plan can feel like navigating a minefield. It's easy to get distracted and reach for unhealthy options that leave you feeling sluggish and defeated. But with the right strategies, enjoying dining out while still achieving your weight loss goals is possible.
When planning meals, consider how often you'll be eating out each week and set realistic expectations for yourself regarding what types of dishes you'd like to order.
Look into restaurant menus ahead of time so that you're aware of their healthier offerings and are less likely to be tempted by indulgent items when presented with various choices. When at the restaurant, opt for grilled or steamed proteins instead of fried foods, as well as salads made with lighter dressings rather than creamy ones.
Though it may take some trial and error, setting up healthy strategies before going out can help ensure you don't end up sabotaging your progress. Try splitting entrees with someone else or asking for half portions if available. This way, you can sample different menu items without overindulging in calories and sodium levels.
Eating out doesn't have to mean taking two steps back – using mindful tactics will ensure that it contributes positively towards your overall weight loss journey.
These same principles can apply when ordering takeout. Look beyond burgers, pizzas and other fatty favorites while keeping portions reasonable enough not to derail all your hard work!
With careful consideration and attention paid to ingredients used in recipes and dietary requirements, making intelligent decisions about where and what we eat helps us stay committed to our health-related goals.
Alternative Strategies For Weight Loss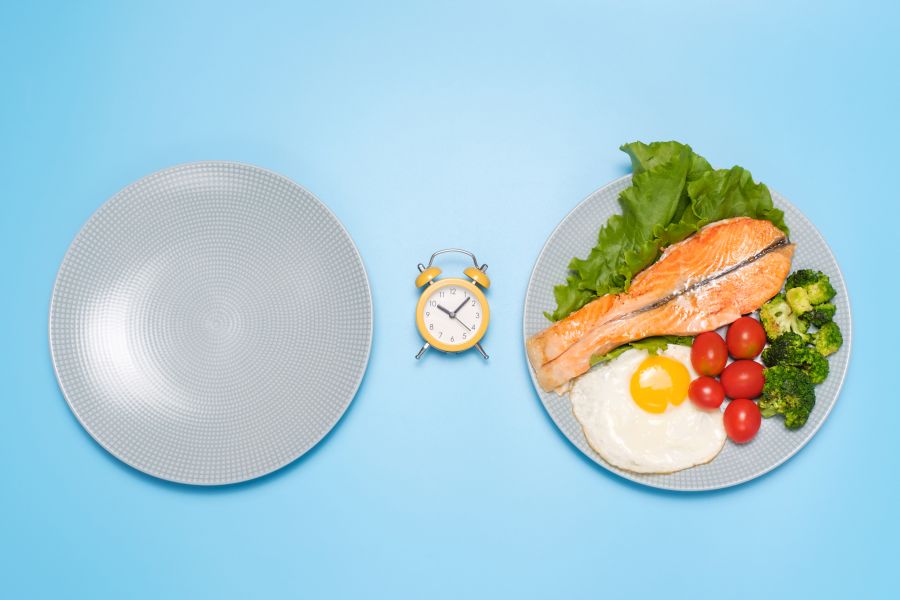 Now that we've discussed the importance of meal planning while dining out let's take a look at alternative strategies for weight loss. While there is no one size fits all approach to losing and maintaining weight, there are plenty of methods available to try. Here are some popular strategies:
Intermittent fasting – this involves eating within an 8-hour window or skipping meals altogether.
Low-calorie diets – Reducing calories helps you lose weight slowly but steadily over time.
Exercise routines – incorporating physical activity into your daily life will burn extra calories and improve overall health.
Carb cycling – switching between low-carb days and higher-carb days allows for flexibility without sacrificing progress.
Understanding The Role Of Exercise
Exercise plays an essential role in weight loss. It increases energy expenditure, improves muscle tone and strength, and reduces stress levels – all of which can help with sustainable long-term weight management.
Regular physical activity also helps to reduce the risk of developing chronic diseases associated with obesity, such as heart disease, stroke and diabetes. Exercise not only assists in losing weight but it's also crucial for maintaining a healthy lifestyle after you've reached your target weight.
The type of exercise that is most effective for weight loss depends on individual goals and preferences. Cardio exercises like running or swimming are great for burning calories quickly, whereas resistance training builds lean muscle mass over time.
A combination of both cardio and resistance training will provide the best results when looking to lose fat while preserving muscle mass. Additionally, incorporating some light stretching into your workout routine can improve flexibility, balance and posture – helping to maintain a healthy body composition even after reaching your goal weight.
By using meal planning strategies alongside regular exercise routines, individuals have more control over their caloric intake and better regulate their hunger hormones – leading to a successful approach towards achieving and sustaining optimal health through proper nutrition and fitness habits.
By investing in yourself through regular exercise, intelligent food choices and good self-care habits, you'll be able to reach your desired level of wellness faster than ever before!
Frequently Asked Questions
What Should I Do If I Don't Have Time To Meal Plan?
Meal prep, time management, diet delivery services, ready meals, and fast food hacks are all options you could explore.
Is Meal Planning Suitable For People With Dietary Restrictions?
By considering individual dietary requirements and preferences, meal planning offers excellent potential for meeting nutritional goals while ensuring mealtime enjoyment. People with special diets no longer need to sacrifice taste or convenience when finding delicious food options. Instead, they can use meal plans to customize their menus and maintain good health while staying on track with their weight loss journey.
Is Meal Planning More Effective Than Other Weight Loss Strategies?
Overall, meal planning might provide advantages over other diet management strategies if done correctly, however, it doesn't guarantee success on its own – creating a balanced lifestyle through regular exercise and portion control along with nutritional dietary choices must also be implemented for long-term results. Achieving optimum health requires dedication and effort.